It's Patio time at Ruckus. Great covered patios! Come join us.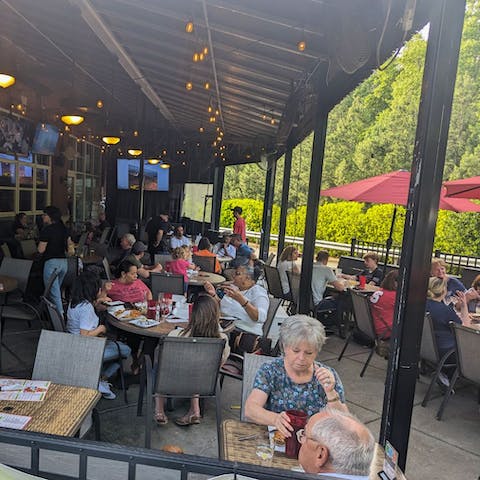 🌟 It's Patio time at Ruckus Pizza stores! All our stores have covered patios. Come join us today.🌟

Get $5 off your next visit by visiting ruckusloyaltyapp.com!
Are you in search of a fantastic covered patio with ample seating, where both your furry friends and little ones are welcome? Look no further than Ruckus Pizza, Pasta & Spirits! Here's what makes it the perfect spot for a delightful outing:
🌞 Inviting Covered Patio: Ruckus boasts a spacious covered patio, allowing you to enjoy the outdoors while staying sheltered from the elements. Whether it's a sunny day or a light drizzle, you can relax and savor your meal in comfort.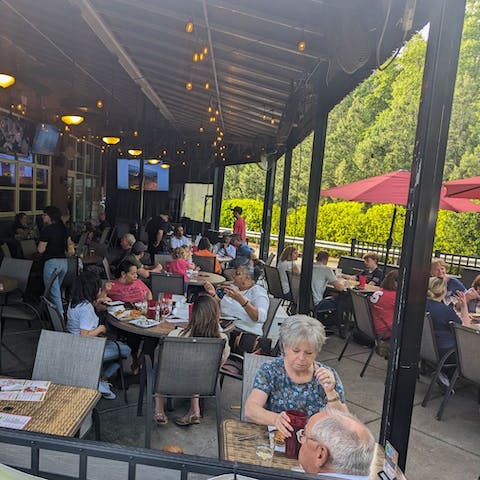 👨‍👩‍👧‍👦 Kid-Friendly Atmosphere: Bring the whole family along, because Ruckus is designed to cater to kids of all ages. With a warm and welcoming environment, your children will have a blast while you enjoy your time together.
🐶 Dog-Friendly Haven: Good news for dog owners! Ruckus Pizza, Pasta & Spirits is a dog-friendly establishment, meaning you can bring your four-legged companions along. Just make sure they stay on the ground and don't eat from the table. Some people don't love your dog as much as you do so keep Fido on the ground please.
🍕 Great Pizza and Pasta: Craving mouthwatering pizza and delectable pasta dishes? Ruckus has got you covered! Their menu features a wide array of delicious pizza options, from classic favorites to creative specialty pies. And if pasta is more your style, prepare to indulge in a variety of flavorful pasta dishes made with fresh ingredients and served to perfection. We also have Burgers, Salads, Wraps and more.
🥂 Spirits to Savor: Whether you prefer a crisp beer, a signature cocktail, or a glass of fine wine, Ruckus offers an impressive selection of spirits. Raise your glass and toast to a fantastic dining experience!
Also visit ruckusloyaltyapp.com to join our loyalty program and get $5 off your next visit!
At Ruckus Pizza, Pasta & Spirits, you'll find the perfect blend of a welcoming atmosphere, delightful food, and refreshing beverages. So gather your loved ones, including your furry friends, and head over to experience the ultimate dining destination for pizza enthusiasts and pasta lovers alike. Bon appétit! 🍽️🍕🍝🍹🐾