North Carolina Beer Month at Ruckus Pizza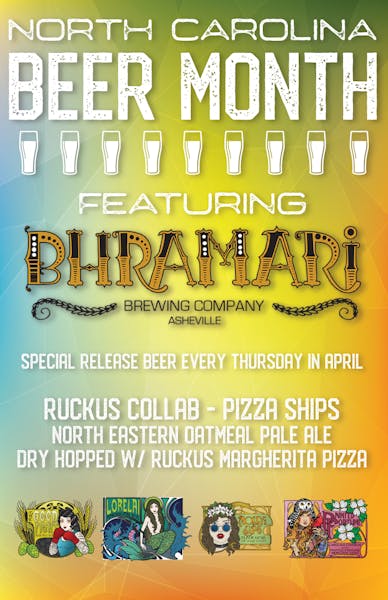 "PIZZA SHIPS" — North Eastern Oatmeal Pale Ale Dry Hopped w/ Ruckus Margherita Pizza
A collaboration for the ages, Ruckus and Bhramari Brewing Co. have come together to celebrate two of the things that makes life worth living — pizza and beer!
Celebrating NC Beer Month, Head Brewer of Bhramari Gary Sernack has gone full pizza fan boy and created something even science didn't know was possible, an Oatmeal Pale Ale dry hopped with the cheesy triangle sliced treats that Ruckus does so well, Margherita Pizza!
Five fresh slices of artisan pie per per barrel and hopped with Vic Secret and Styrian Wolf, rare white whale hops in the industry, this experimental brew is a true representation of what craft brewing is at its heart, celebrating traditions and combining passions to push limits and brew something new to inspire you!
Be a total Pizza Ship and get to any Ruckus location in April to try this collaborative brew before it sets sail!