The people of Ruckus: Tori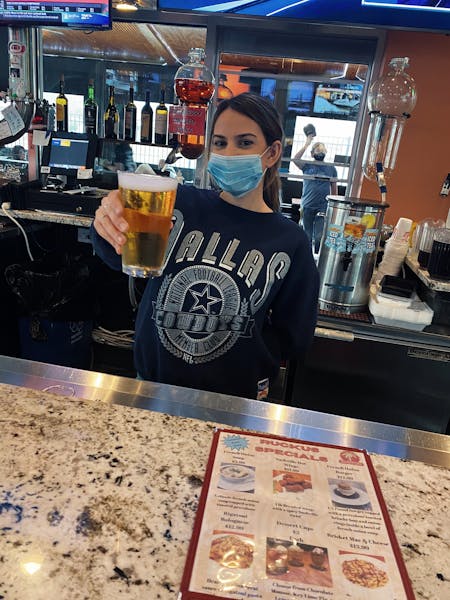 Name: Tori Santori
From: Cary, NC
Character traits: extroverted, a big heart, an open book, very chill
Favorite Song: You and I - Lady Gaga
Beach or Mountains: Beach
Daily drink: Dunkin' Donuts small iced caramel coffee with cream and sugar
Six years ago, Tori was bouncing from job to job looking for one where she could have fun, enjoy going to work and find family. Sam, a Ruckus bartender and longtime friend of Tori recommended she apply at Ruckus Pizza, Pasta and Spirits.
Tori thought she would give it a try and had no idea that working at Ruckus, she would find that while it was a job, it was the first time she would work somewhere that was fun and didn't feel like work. Tori started as a server and quickly found that regulars are the secret sauce to the enjoyment of her shifts. The more she worked, the more she connected with co-workers and found that "Ruckus is really a small family unit- realizing that the owners, Robert and Ashley Royster and the management team genuinely care about their people and want them to be better and have more."
"Working at Ruckus, has taught me accountability, leadership skills, maturity, and and given me the confidence I needed to find what I want to do in my future" says Tori. Having recently read a Forbes article about how millennials are able to earn a two year degree in cybersecurity led to Tori enrolling in school to do just that. That earned confidence has her working and attending school and finding that she can achieve her dreams in life.
Tori's advice to others wanting to get into restaurant- even with no experience-- "just go for it! Listen to what other people are teaching you, a lot of trial and error, you're going to make mistakes- it's how you move past them and LEARN THE MENU!"
Favorite Menu items:
Sushi- Tulum
Pizza- Margarita and add the pepperoni
Entree- Mama's Cannenolli
Can't go without- the hot wings and always suggests the Buffalo Chicken Sandwich
Cocktail- Frozen Painkiller or Margarita